The economic use of natural resources, such as water and land, in the Mediterranean region are constrained by resources limitations, climatic conditions and socio-economic stresses. The project LEarning and action alliances for NexuS EnvironmentS in an uncertain future (LENSES) aims to improve the understanding of WEF systems, to reveal their complexity and to create innovative tools and strategies that help to manage their uncertainty, in relation to their dynamic evolution.
Moving beyond the scientific Nexus understanding, LENSES aims to supporting the operationalization of the Nexus paradigm (from Nexus thinking to Nexus doing), therefore contributing to improve water allocation, enhance food security while preserving ecosystems and aiding climate change adaptation.
LENSES integrates the concepts of sustainable Nexus management with a resilience-oriented approach, leading decision-makers in accepting uncertainty as integral part of management and decision-making processes.
LENSES will achieve its overarching goals through a collective learning process which foresees the active, inclusive and equitable engagement of all stakeholders involved in the Nexus management.
LENSES activities will be implemented by 13 partner institutions among which 7 research centers, 5 SMEs and 1 NPO, involving more than 50 experts across 6 countries in the Mediterranean basin (i.e., Spain, Italy, Greece, Turkey, Israel and Jordan).
LENSES will pilot its innovative approaches in 7 case study areas representative of the main agricultural and geographical characteristics of the Mediterranean basin.
–        To strengthen scientific capacities and the creation of a collaborative space in the WEF Nexus perspective throughout the Mediterranean region;
–        To contribute to the development of an operational approach to the interconnected management of WEF nexus, taking into account the specificities of the Mediterranean region;
–        To guarantee the feasibility, replicability and scaling up of the demonstration cases;
–        To create strong cross-sectoral links between institutions, including grassroots beneficiaries and relevant public authorities governing the Nexus approach;
–        To contribute to accelerate the achievement of all SDGs interconnected with the WEF Nexus concept, at different levels of governance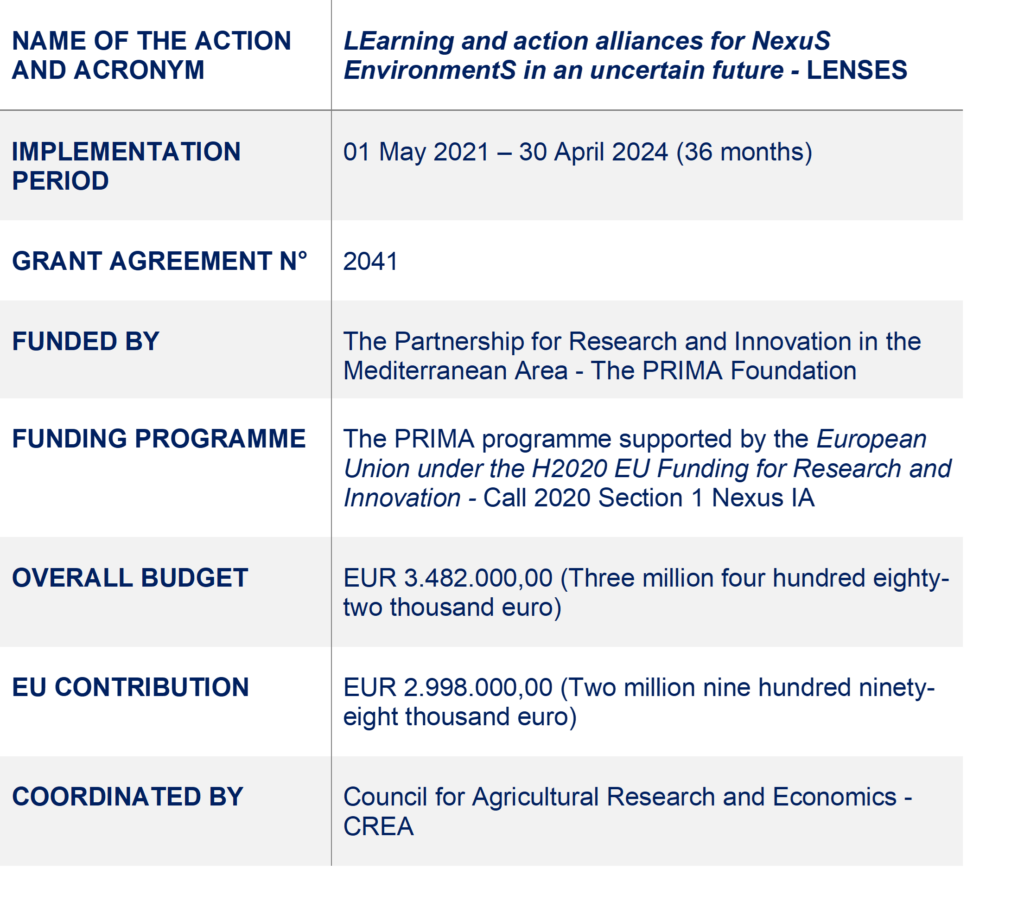 The overlapping waves are symbolizing the dynamic interaction as well among the four domains (i.e., water allocation, ecosystem services, food production, climate adaptation) of the Nexus as well as the cross-cutting approach uses to look at them in the context of LENSES.